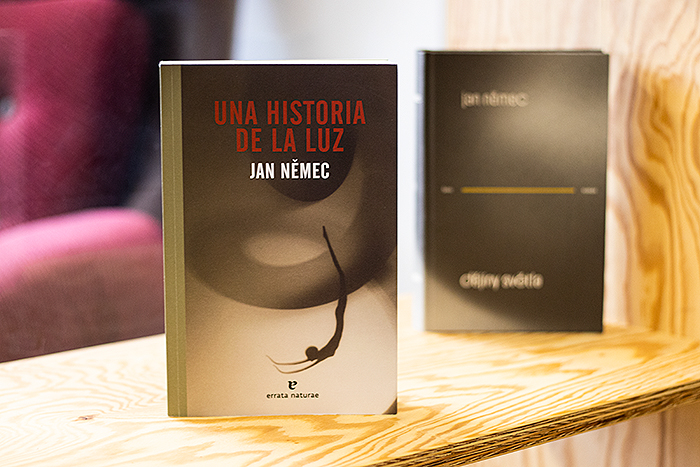 Books in translation, new in 2019
The following survey will present in stages published books in translation by our authors. How many dozen of our authors' books will come out abroad this year?
---
Bearing in mind that the Czech Republic is guest of honour at this year's Leipzig Book Fair, will translations into German account for the greatest number? Will all share the great success of the first on our list? An enthusiastic full-page review of a Czech book in the literary supplement of El País is a rare thing indeed, and praise for the Spanish edition of Jan Němec's novel Dějiny světla / A History of Light continues to come in.
This page is regularly updated, so why not return to it from time to time? You may be in for a few surprises…
Jan Němec, Dějiny světla / Una historia de la luz, Errata Naturae, Spain, translated by Elena Buixaderas, January
Michal Ajvaz, Návrat starého varana / Die Rückkehr des alten Warans, Větrné mlýny / Wieser Verlag, Austria, translated by Veronika Siska, January
Jiří Hájíček, Dešťová hůl / Der Regenstab, Karl Rauch Verlag, Germany, translated by Kristina Kallert, February
Jiří Hájíček, selected short stories published under the title Dann blühen die Gräser, Větrné mlýny / Wieser Verlag, Austria, translated by Julia Miesenböck, February
Jiří Kratochvil, selected short stories published under the title Die Causa Neufundländer, Větrné mlýny / Wieser Verlag, Austria, translated by Nina Ritschl, February
Vladimíra Valová, selected short stories published under the title Ins Landesinnere, Větrné mlýny / Wieser Verlag, Austria, February
Vratislav Maňák, Rubikova kostka / Heute scheint es, als wäre nichts geschehen, Karl Rauch Verlag, Germany, translated by Lena Dorn, February
Jan Němec, Dějiny světla / Die Geschichte des Lichts, Osburg Verlag, Germany, translated by Martin Mutschler, February
Petra Soukupová, Pod sněhem, Alja, Bulgaria, translated by Radost Železarova, February
Michal Viewegh, selected short stories published under the title Die Definition von Liebe, Větrné mlýny / Wieser Verlag, Austria, translated by Katharina Hinderer, February
Jiří Kratochvil, Jízlivá potměšilost žití / Die niederträchtige Boshaftigkeit des Seins, Braumüller Verlag, Austria, translated by Kathrin Janka, March
Kateřina Tučková, Vyhnání Gerty Schnirch / Vyhnanie Gerty Schnirch, Tatran, Slovakia, translated by Eva Melichárková, March
Jiří Kratochvil, Truchlivý Bůh / Een bedroefde God, Uitgeverij kleine Uil, Netherlands, translated by Tieske Slim, April
Kateřina Tučková, Vyhnání Gerty Schnirch / Wypędzenia Gerty Schnirch, Afera, Poland, translated by Julia Różewicz, April
Jiří Kratochvil, Lůžko je rozestlané / Ležaj je raspremljen, Znanje, Croatia, translated by Renata Kuchar a Ludwig Bauer, April
Daniel Petr, Sestra smrt / Siostra Śmierć, Afera, Poland, translated by Agata Wróbel, May
Viktorie Hanišová, Anežka, Stylhouette, Bulgaria, translated by Radost Železarova, May
Kateřina Tučková, Žítkovské bohyně / Οι θεές της Ζίτκοβα, Ikaros, Greece, translated by Kostas Tsivos, June
Alena Mornštajnová, Hana / Hana, Celjska Mohorjeva Družba, Slovenia, translated by Nives Vidrih, July
Michal Viewegh, Výchova dívek v Čechách / Воспитувањето девојки во Чешка, Antolog, Macedonia, translated by Margareta Karajanova, August
Alena Mornštajnová, Hana / Hana, Izdevniecība Pētergalis, Latvia, translated by Jānis Krastiņš, August
Ivana Myšková, Bílá zvířata jsou velmi často hluchá / Bele živali so zelo pogosto gluhe, KUD Police Dubove, Slovenia, translated by Tatjana Jamnik, September
Viktorie Hanišová, Anežka / Anežka, Klak Verlag, Germany, translated by Hana Hadas, September
Viktorie Hanišová, Houbařka / El micelio, L'Art de la Memòria Edicions, Spain (in Spanish), translated by Kepa Uharte, September
Viktorie Hanišová, Houbařka / El miceli, L'Art de la Memòria Edicions, Spain (in Catalan), translated by Kepa Uharte, September
Petra Soukupová, Kdo zabil Snížka?, Antolog, Macedonia, translated by Igor Stanojoski, September
Alena Mornštajnová, Hana / Hana, Amaltea, Poland, translated by Tomasz Grabiński, October
Petra Soukupová, Nejlepší pro všechny / Najlepiej dla wszystkich, Afera, Poland, translated by Julia Różewicz, October
Matěj Hořava, Pálenka / Rakija: Proze iz Banata, Artikulacje, Croatia, translated by Matija Ivačić, October
Kateřina Tučková, Žítkovské bohyně / Balto Karpatu dievietes, Jumava, Latvia, translated by Sandra Ņikuļceva, October
Petra Soukupová, Nejlepší pro všechny, Jeta në sytë e Vikit, Ombra GVG, Albania, translated by Ani Hafizi, October
Alena Mornštajnová, Hana / Hana, Hena Com, Croatia, translated by Sanja Milićević Armada, November
Alena Mornštajnová, Hana / Hana, SONM, Bulgaria, translated by Dobromir Grigorov, November
Petra Soukupová, Nejlepší pro všechny, Antolog, Macedonia, translated by Jasminka Delova Siljanova, December
13. 3. 2019