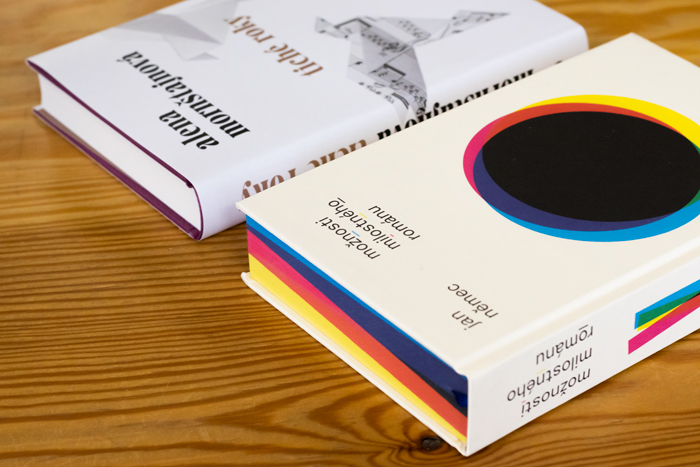 Our books scored well in the prestige Lidové noviny Book of the Year poll
The Lidové noviny Book of the Year award announcements are one of the most eagerly anticipated cultural events marking the end of the year.
---
The latest annual poll, i.e. Book of the Year 2019, attracted 153 respondents from among the foremost Czech writers, critics, editors and university tutors, as well as others primarily involved in the humanities. We should add that Lidové noviny first presented the Book of the Year poll back in 1928, and just as it did in the First Republic this poll nowadays helps readers to find their bearings among the vagueries of the book market.
Books represented by our literary agency have also traditionally scored highly in this poll. Alena Mornštajnová's Tiché roky / Years of Silence finished in third place (second among domestic authors and first among domestic prose writers), winning six votes. (For further details on Alena Mornštajnová's other latest literary successes see this article: Alena Mornštajnová – Interim balance: translations into thirteen languages and over a quarter of a million copies sold). The top ten also included Možnosti milostného románu / Ways of Writing about Love by Jan Němec: gaining 6-10th position with four votes.
Below we provide a selection of the justifications for individual voters:
Tiché roky / Years of Silence:
"Czech literature can boast a great novelist."(Zbyněk Černík, translator)
"Again another high-quality achievement by perhaps the greatest contemporary Czech author. A highly intense family story, under the influence of an inscrutable game of fate." (Simona Fischerová, Bohemist)
"An outstanding craftsmanlike Czech novel, without a trace of that fierce struggle between the author and her own words. At another level it is one of the most intelligent fictional summaries of the incomprehensible Czech 20th century." (David Klimeš, journalist)
Možnosti milostného románu / Ways of Writing about Love:
"No one who has enjoyed reading the multi-award-winning Dějiny světla / History of Light should miss out on the author's latest novel – a book full of the passion and emotion that has not been as successfully preserved for us in our postmodern world with such purity and consistency as it was for our ancestors for hundreds of years. A spontaneous testimony of love in the age of digital cholera." (Iva Pecháčková, publisher)
"There must be plenty of love stories worth recording for their drama, weirdness or destructiveness. All the same, the way this is written shows that Jan is the greatest prose talent of his generation." (Martin Reiner, writer and publisher)
"Why do you love me? And what does it mean to love? Seeking answers to basic questions. Cervantes' unrecognized legacy in the age of social networks."(Petr Vizina, Czech Television editor)
Other citations include (in no particular order) the following titles:
Michal Ajvaz: Města / Cities (3 votes)
Jiří Kratochvil: Liška v dámu / Fox into Lady (2 votes)
Anna Beata Háblová: Nemísta měst / Urban Unplaces (2 votes)
Miloš Doležal: Čurda z Hlíny / Čurda from Hlína (2 votes)
Petra Dvořáková: Chirurg / The Surgeon (1 vote)
Simona Bohatá: Všichni sou trapný /They're All So Embarrassing (1 vote)
Viktorie Hanišová: Rekonstrukce / Reconstruction (1 vote)
Jan Jícha: Ředitel a hydra / The Headmaster and The Hydra (1 vote)
Jiří Padevět: Sny a sekyry / Dreams and Axes (1 vote)
13. 1. 2020