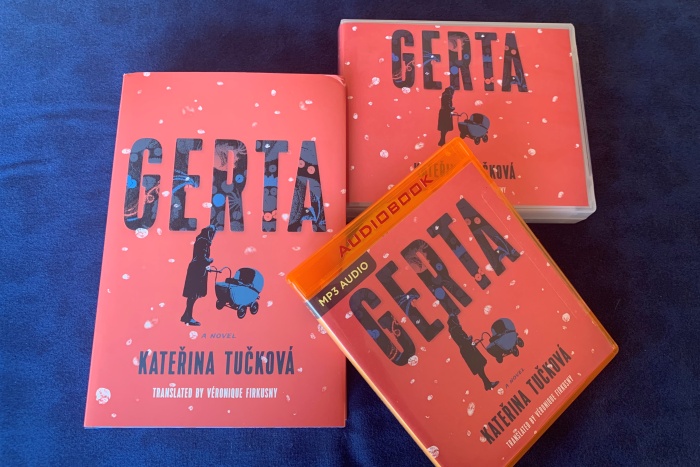 Titles published abroad in 2021
Our survey of titles newly published in translation is one of the most popular pages on our website.
---
Last year – which as we all know was much affected by the global Covid-19 crisis – only 28 books by our authors appeared, although many titles originally slated for publication last year will now come out this. Remarkably, eight of the translations on the list are of works by Alena Mornštajnová.
All signs currently suggest that this year's balance sheet for published titles in translation will have a far more cheerful aspect.
Indeed, for our agency the year has got off to a fantastic start. Published on 1 February by US house Amazon Crossing, an English-language edition of Vyhnání Gerty Schnirch by Kateřina Tučková (as Gerta, translated by Véronique Firkusny) has become the most widely watched title in translation by one of our authors since our foundation. Publication of Gerta was preceded by a marketing campaign of several weeks. At the time of writing, it has already received thousands of ratings and attracted hundreds of reader reviews on the Amazon and Goodreads platforms. We hope and trust that the year will continue in this dramatically successful trend!
Books in translation published in 2021:
Michal Sýkora: Modré stíny / Człowiek pana ministra, Afera, Poland, translated by Martyna M. Lemańczyk, January
Jan Folný: Víkend v Londýně / Vikend u Londonu, Ammonite books, Serbia, translated by Alexandra Cimpl-Simeonović, January
Lidmila Kábrtová: Místa ve tmě / Mesta u tami, Ammonite books, Serbia, translated by Alexandra Cimpl-Simeonović, January
Alexandra Berková: Temná láska, Al Kotob Khan, Egypt, translated by Khalid El Biltagi, January
Kateřina Tučková: Vyhnání Gerty Schnirch / Gerta, Amazon Crossing, USA, translated by Veronique Firkusny, February
Alena Mornštajnová: Hana / Hana, Csirimojó, Hungary, translated by Juhászné Hahn Zsuzsanna, February
Jakuba Katalpa: Němci / I tedeschi. Una geografia della perdita, Miraggi Edizioni, Italy, translated by Alessandro De Vito, February
Miloš Doležal: Čurda z Hlíny. Tři dokumentární povídky z protektorátu / Krawiec, żandarm i spadochroniarz. Trzy opowieści o czeskich kolaborantach, Wydawnictwo Uniwersytetu Jagiellońskiego, Poland, translated by Zofia Bałdyga, February
Kateřina Tučková: Žítkovské bohyně / El legado de las diosas, Errata Naturae/Editorial Periférica de Libros, Spain, translated by Kepa Uharte, March
Petra Soukupová: K moři / Na more, Treći trg, Serbia, translated by Tihana Hamović, March
Kateřina Tučková: Žítkovské bohyně, Text, Russia, translated by Inna Bezrukova, March
Petra Soukupová: Nejlepší pro všechny / Най-добре за всички, ALJA, Bulgaria, translated by Radost Železarova, April
Petra Soukupová: Kdo zabil Snížka? / Кой уби Снежко?, ALJA, Bulgaria, translated by Radost Železarova, April
Jiří Hájíček: Plachetnice na vinětách / Vignetten mit Segelschift, Karl Rauch Verlag, Germany, translated by Kristina Kallert, April
Matěj Hořava: Pálenka. Prózy z Banátu / Cartea țuicii. Povestiri din Banat, Curtea Veche, Romania, translated by Mircea Dan Duță, April
Pavel Čech: A / A, Forlaget Torgard, Denmark, April
Jan Němec: Možnosti milostného románu, Al-Turjman for Translation & Publishing, Egypt, translated by Khalid El Biltagi, April
Alena Mornštajnová: Hana / Xaha, Muza, Macedonia, translated by Igor Stanojoski, May
Martin Fahrner: Steiner aneb Co jsme dělali / Щайнер или Какво правихме, Ergo, Bulgaria, translated by Margarita Rumenova, May
Petra Soukupová: Bertík a čmuchadlo / Бертик и душкалото, Magor, Macedonia, translated by Jasminka Delova-Siljanova, May
Pavel Čech: Velké dobrodružství Pepíka Střechy / Големата авантура на Пепик Стреа, Begemot, Macedonia, translated by Margareta Karajanova, May
Petra Soukupová: Bertík a čmuchadlo / Бертик и чмух, Samokat, Russia, translated by Ksenia Timenčik, May
Michal Ajvaz: Druhé mesto / De andere stad, Kleine Uil, Netherlands, translated by Tieske Slim, May
Viktorie Hanišová: Rekonstrukce, Al Arabi, Egypt, translated by Amr Shatury, June
Jiří Kratochvil: Liška v dámu / Staļina lapsa jeb kā lapsa par dāmu tika, Izdevniecība Pētergalis, Latvia, translated by Janis Krastińš, June
Petra Soukupová: Klub divných dětí / Il club dei bambini strani, Atmospere Libri, Italy, translated by Raffaella Belletti, July
Alena Mornštajnová: Tiché roky / Tiha leta, Celjska Mohorjeva Družba, Slovenia, translated by Nives Vidrih, July
Jiří Kratochvil: Jízlivá potměšilost žití, Dar Al Hiwar, Syria, translated by Ghias Mousli, July
Michal Ajvaz: Lucemburská zahrada, Dar Al Hiwar, Syria, translated by Ghias Mousli, July
Alena Mornštajnová: Tiché roky, Dar Al Hiwar, Syria, translated by Ghias Mousli, July
Viktorie Hanišová: Anežka / Агнес, Muza, Macedonia, translated by Igor Stanojoski, August
Pavel Čech: A / A, Poland, Timof, September
Viktorie Hanišová: Anežka / Agnès, L'Art de la Memòria Edicions, Spain, translated into Catalan by Kepa Uharte, September
Michal Sýkora: Pět mrtvých psů / Пет мъртви кучета, Matcom, Bulgaria, translated by Gina Bakardzhieva, September
Viktorie Hanišová: Houbařka / La cercatrice di funghi, Voland, Italy, translated by Letizia Kostner, September
(updated 22nd September, 2021)
24. 2. 2021