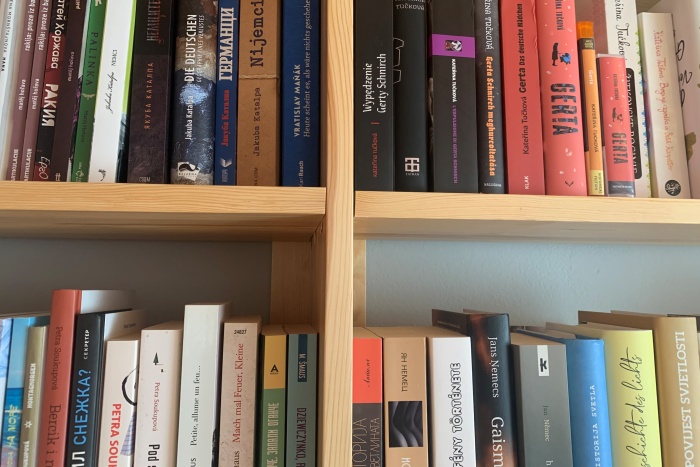 Survey of rights sold in 2021
Our regular annual list of rights sold for translation of books by our authors appears in this article.
---
Let us begin with a recapitulation of the year just gone. In 2020, we agreed the sale of translation rights for 60 books. The table-topper in this regard was Alena Mornštajnová, with eight books, closely followed by Pavel Čech and Petra Soukupová (seven each). With four books each, Petra Dvořáková, Viktorie Hanišová and Jiří Kratochvil, too, were high scorers.
Traditional destinations for Czech books such as Macedonia, Bulgaria and Poland have again been joined by the German-speaking world; books by Viktorie Hanišová, Jiří Hájíček and Alena Mornštajnová will this year appear in German. Translation rights to books by Viktorie Hanišová, Nela Rywiková and Petra Soukupová were sold for Italian.
Rights sold in 2021:
Jakuba Katalpa: Zuzanin dech, Ikar, Slovakia
Michal Ajvaz: Druhé město, Vogi-Nairi, Armenia
Michal Ajvaz: Tyrkysový orel, Vogi-Nairi, Armenia
Jiří Kratochvil: Liška v dámu, Sefsafa, Egypt
Michal Ajvaz: Druhé město, Kichli, Greece
Jakuba Katalpa: Zuzanin dech, Stara Szkoła, Poland
Martin Fahrner: Steiner aneb Co jsme dělali, Sajalín editores, Spain
Alena Mornštajnová: Listopád, Muza, Macedonia
Jiří Kratochvil: Liška v dámu, Komora, Ukraine
Michal Sýkora: Ještě není konec, Afera, Poland
Petra Soukupová: Věci, na které nastal čas, Mitteldeutscher Verlag, Germany
Lidmila Kábrtová: Místa ve tmě, Mitteldeutscher Verlag, Germany
Antonín Bajaja: Zvlčení, Disput, Croatia
Petra Soukupová: Věci, na které nastal čas, Miraggi Edizioni, Italy
Jakuba Katalpa: Zuzanin dech, Hena Com, Croatia
Jiří Kratochvil: Slib, Glagoslav Publications, The Netherlands (world English rights)
Alena Mornštajanová: Listopád, Wieser Verlag, Austria
Viktorie Hanišová: Rekonstrukce, Wieser Verlag, Austria
Kateřina Tučková: Žítkovské bohyně, Amazon Crossing, USA
Viktorie Hanišová: Anežka, L'Art de la Memòria Edicions, Spain (Spanish rights)
Viktorie Hanišová: Anežka, L'Art de la Memòria Edicions, Spain (Catalan rights)
Jakuba Katalpa: Němci, Izdevniecība Pētergalis, Latvia
Alena Mornštajnová: Hana, 25m2 Publishing House, Turkey
Petra Soukupová: Klub divných dětí, Jensen & Dalgaard, Denmark
Petra Soukupová: Nejlepší pro všechny, Ammonite Books, Serbia
Matěj Hořava: Mezipřistání, Treći trg, Serbia
Petra Dvořáková: Chirurg, Ammonite Books, Serbia
Alena Mornštajnová: Hana, Mozaïek, The Netherlands
(updated 10th May, 2021)
24. 2. 2021