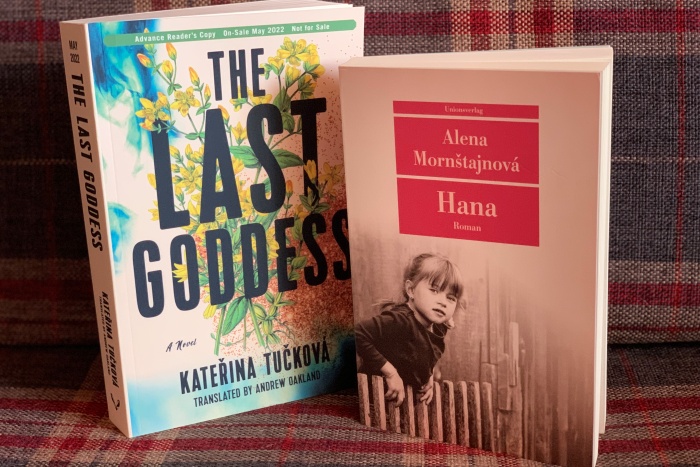 New editions in translation 2022
In 2021, 57 books by authors represented by our agency were published in translation. In early 2022, 120 books in translation are in preparation.
---
No one will be surprised to learn that the current pacemaker in the 'competition' for most forthcoming published titles in translation is Alena Mornštajnová, with 19 titles. She is followed by Petra Soukupová on 10, Jiří Kratochvil, Irena Dousková and Michal Ajvaz on 7, and Viktorie Hanišová, Pavel Čech, Petra Dvořáková, Jiří Hájíček and Jakuba Katalpa on 6.
To stay with the theme of competition, the imminent publication of Bílá Voda / Bílá Voda by Kateřina Tučková may lead to a shuffling of the cards in the coming future. As for our tip for this year's dark horse, how about Sources of the Moldau / Prameny Vltavy by Petra Klabouchová?
Below is a list of books already published in 2022 together with those whose publication is imminent. This list is updated immediately on receipt of information from the publishers involved.
Michal Sýkora: Ještě není konec, Al Arabi, Egypt, translated by Amr Shatury, January
Alena Mornštajnová: Hana / Hana, Unionsverlag, Switzerland, translated by Raija Hauck, February (second German edition)
Alena Mornštajnová: Listopád / Ноември, Muza, Macedonia, translated by Igor Stanojoski, February
Michal Sýkora: Nejhorší obavy / Најлошите стравови, Slavika Libris, Macedonia, translated by Donka Rous, February
Petra Dvořáková: Chirurg / Hirurg, Ammonite Books, Serbia, translated by Alexandra Cimpl Simeonović, February
Irena Dousková: Doktor Kott přemítá / Doktor Kot razmišlja, Liberland Art, Serbia, translated by Alexandra Cimpl Simeonović, February
Viktorie Hanišová: Rekonstrukce / Rekonstrukcija, Fraktura, Croatia, translated by Branka Čačković, March
Viktorie Hanišová: Rekonstrukce / Rekonstruktion, Wieser Verlag, Austria, translated by Raija Hauck, March
Alena Mornštajnová Hana / Hana, Mozaïek, The Netherlands, translated by Irma Pieper, April
Petra Soukupová: Kdo zabil Snížka?/ Il mistero del cucciolo scomparso, Beisler Editore, Italy, translated by Letizia Kostner, April
Kateřina Tučková: Žítkovské bohyně / The Last Goddess, Amazon Crossing, USA, translated by Andrew Oakland, May
Pavel Čech: Tajemství Ostrova za prkennou ohradou, Magor, Macedonia, May
Petra Soukupová: Věci, na které nastal čas / Sprawy, na które przyszedł czas, Afera, Poland, translated by Julia Różewicz, May
Alena Mornštajnová: Listopád / Es geschah im November, Wieser Verlag, Austria, translated by Raija Hauck, May
Jakuba Katalpa: Zuzanin dech / Zuzanin dych, Ikar, Slovakia, translated by Ester Demjanová, May
Alena Mornštajnová: Slepá mapa / Празна мапа, Muza, Macedonia, translated by Igor Stanojoski, May
Petra Soukupová: Klub divných dětí / De mærkelige børns klub, Jensen & Dalgaard, Denmark, translated by Peter Bugge, May
Alena Mornštajnová: Hana / Hana, Les Éditions Bleu et Jaune, France, translated by Benoit Meunier, June
Alena Mornštajnová: Tiché roky / Klusie gadi, Latvia, Izdevniecība Pētergalis, translated by Jānis Krastiņš, June
Matěj Hořava: Mezipřistání / Междинно кацане, Ergo, Bulgaria, translated by Margarita Rumenova, June
Irena Dousková: Hrdý Budžes / Koračaj, Gordo, Treći Trg, Serbia, translated by Uroš Nikolić, June
Lidmila Kábrtová: Místa ve tmě / Plekken in het donker, Pegasus, The Netherlands, translated by Kees Merck, July
Martin Fahrner: Steiner aneb Co jsme dělali / Steiner o las cosas que hacíamos en Checoslovaquia, Sajalín editores, Spain, translated by Enrique Gutiérrez Rubio, July
Michal Sýkora: Ještě není konec / To jeszcze nie koniec, Afera, Poland, translated by Krzysztof Wołosiuk, August
Petra Soukupová: Klub divných dětí / Суперстранные дети, Samokat, Russia, translated by Ksenia Timenčik, August
Alena Mornštajnová: Hana / Гана, Text, Russia, translated by Ksenia Timenčik, August
Antonín Bajaja: Zvlčení / Za vukovima, Disput, Croatia, translated by Mateja Pavlic, September
Alena Mornštajnová: Tiché roky / Tiché roky, Aktuell, Slovakia, translated by Zora Sadloňová, September
Jiří Hájíček: Plachetnice na vinětách / Burinieki uz etiķetēm, Izdevniecība Pētergalis, Latvia, translated by Halina Lapiňa, September
Irena Dousková: Medvědí tanec / Taniec niedźwiedzia, Stara Szkoła, Poland, translated by Miroslaw Śmigielski, October
Jakuba Katalpa: Zuzanin dech / Zuzanin dah, Hena Com, Croatia, translated by Emilio Nuić, October
Kateřina Tučková: Žítkovské bohyně / Baltųjų Karpatų raganos, Gelmes, Lithuania, translated by Jurga Ralitė, October
Alena Mornštajnová: Hana / Hana, 25m2 Publishing House, Turkey, October
Pavel Čech: O zahradě / Kopshti i mrekullive, Ombra GVG, Albania, translated by Elona Kodhel, November
Alena Mornštajnová: Tiché roky / Lata ciszy, Amaltea, Poland, translated by Anna Radwan-Żbikowska and Tomasz Grabiński, December
Alena Mornštajnová: Listopád / November, Celjska Mohorjeva Družba, Slovenia, translated by Nives Vidrih, December
Irena Dousková: Čím se liší tato noc, Balaena, Germany, translated by Mirko Kraetsch, December
(updated 19th December, 2022)
3. 3. 2022